Nature & Music
Saturday, March 25, 2017 - 7:30 PM
Kick-off for our March 28 concert at the Kennedy Center in Washington, DC - part of the SHIFT Festival

Macky Auditorium, CU Campus, Boulder
Boulder Philharmonic Orchestra
Michael Butterman, conductor

LIAS  All the Songs that Nature Sings
World Premiere with choreographed visuals of Rocky Mountain National Park, commemorating the 100th anniversary of the National Park Service
MIDKIFF  Mandolin Concerto, From the Blue Ridge
   Jeff Midkiff, mandolin
HEITZEG  Ghosts of the Grasslands
COPLAND Appalachian Spring  

with Frequent Flyers® Aerial Dance
Your Boulder Phil encores nature-themed favorites from recent seasons along with a world premiere by "composer-adventurer" Stephen Lias inspired by our own Rocky Mountain National Park and choreographed to nature photography from the park. Jeff Midkiff's mandolin concerto evokes the Appalachians with hues of bluegrass and Americana. Prairie dogs star in the cinematic Ghosts of the Grasslands, and Copland's iconic Appalachian Spring is brought to life in unforgettable fashion by Frequent Flyers Aerial Dance ensemble.


6:30 PM - FREE Pre-Concert Talk at Macky
Concert sponsored by
RUTH AND CARL FORSBERG
Soloist sponsored by
SUSAN LITT


---
All the Songs that Nature Sings
Sat., March 18, 7 PM
Beaver Meadows Visitor Center, Rocky Mountain National Park
Free and open to the public
Presented by Composer-Adventurer Stephen Lias
A collaborative event with the Boulder Philharmonic and Rocky Mountain National Park in anticipation of the upcoming premiere
 
This engaging multimedia presentation will explore the many ways that adventure, scenery, fear, history, wildlife and geology can be translated into music. You'll hear audio and video excerpts from many pieces both by Lias and others. Click for details

---
Musical Hike: Nature in Music
Sun., March 19, 10 AM – 12:30 PM
Flagstaff Mountain, Boulder
Free and open to the public

Join composer Stephen Lias and Open Space and Mountain Parks naturalist Dave Sutherland for a music-themed hike into the mountains. We'll hear samples from Lias' nature-inspired works, including a sneak peek of his new piece, enjoy spectacular scenery, and watch for mountain wildlife. Meet at Realization Pont on Flagstaff Mountain for a fairly easy 1.5-mile hike. Please bring strap-on traction (e.g., yak tracks, micro-spikes) for your footwear since the trails may be very slick and icy. Follow this link for a map.
---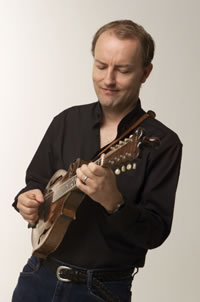 About Jeff Midkiff

A mandolinist and fiddler raised on bluegrass and a professional clarinetist, Jeff Midkiff is an outstanding musician who feels comfortable in more than one setting—musically and personally. "I feel at home in the Blue Ridge Mountains playing fiddle tunes," Jeff Midkiff says, "but then again, I feel at home in a professional orchestra as well." Jeff grew up where bluegrass and traditional string band music thrived. Given his first mandolin at the age of 7 by a neighbor (Sherman Poff, to whose memory Partners In Time is dedicated), he moved quickly into the world of fiddlers' conventions and contests, winning his first mandolin competition before reaching his teens. As he grew older, he added the fiddle to his instrumental arsenal and joined the New Grass Revue—yet at the same time, he took up the clarinet and began to perform with his high school's symphonic band.

Even as he was immersing himself in the classical repertoire, he continued to gain attention as a mandolin and fiddle player. By the time he graduated he had his sights firmly set on a musical career, and in 1981 Midkiff began studies at Virginia Tech, eventually earning a degree in music education and performance. Yet even as he was immersing himself in the classical repertoire, he continued to gain attention as a mandolin and fiddle player with the McPeak Brothers, a widely respected bluegrass group with whom he made his first serious recording in 1982.

In 1983 he joined the Lonesome River Band, which would eventually become one of bluegrass's most acclaimed groups. For the next five years, as he completed his education and started working as a music instructor, he performed with the LRB, recording two albums with the group, including its self-titled Rebel Records debut in 1987. Shortly after that, he enrolled in graduate school at Northern Illinois University, earning his Master's degree in clarinet at the end of the decade—but though the move meant leaving the LRB, he continued to perform with an Illinois bluegrass band, Bluegrass Express.  www.jeffmidkiff.com

About Frequent Flyers® Aerial Dance

Boulder, Colorado-based Frequent Flyers was founded in 1988 by Artistic Director, Nancy Smith, and incorporated as a nonprofit in 1990. Now in its 27th year, Frequent Flyers is a recognized leader in advancing the field of aerial dance through award-winning performances, the international Aerial Dance Festival, education programming including outreach to at-risk youth, the Student Company, the 9-month Professional Training Program; and community classes. Frequent Flyers' roots lie within the company's unique approach to blending aerial arts and modern dance into high quality performances. Their dedicated Aerial Dance Studio is the premier aerial dance school in the country. www.frequentflyers.org